Lunation

Derek Hale & Stiles Stilinski
The thin line between
Hate & Love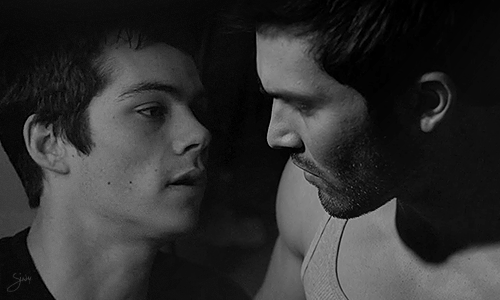 Not made by me
---
Hate and love can result in similar acts of extreme behaviour. Hate is considered to be an evil passion that should, in a better world, be tamed, controlled and eradicated, yet hate is a passion that is of equal interest to love. Like love, it is often seemingly irrational and can lead individual to heroic and evil deeds. How can two opposite sentiments lead to the same behaviour? Both emotions are extremely powerful and extremely passionate. You can passionately love someone and you can passionately hate someone. You can hate someone but then something happens and you could have feelings of love for them.
---
My favorite episodes are marked with *
Light Sterek episodes are marked with S
Strong Sterek episodes are marked with S
Intense Sterek episodes are marked with SS
No real Sterek but subtext is marked with S
Derek loves to touch Stiles ♥
Stiles loves to defy Derek ♥
Derek loves to scare Stiles ♥
Stiles loves to touch Derek ♥
Derek worries about Stiles ♥
Stiles worries about Derek ♥
Cursive font: Either Derek or Stiles didn´t appear in this episode
Crossed out: Neither Stiles nor Derek appear in this episode.


6. Season A

6. Season B

Superposition
Sundowning
Relics
Ghosted
Heartless
Blitzkrieg
Memory Found

Raw Talent
After Images
Face-to-Faceless
Pressure Test
Triggers
Werewolves in London
Genotype
The Wolves of War S ♥ ♥ ♥ ♥