11. Said the Spider to the Fly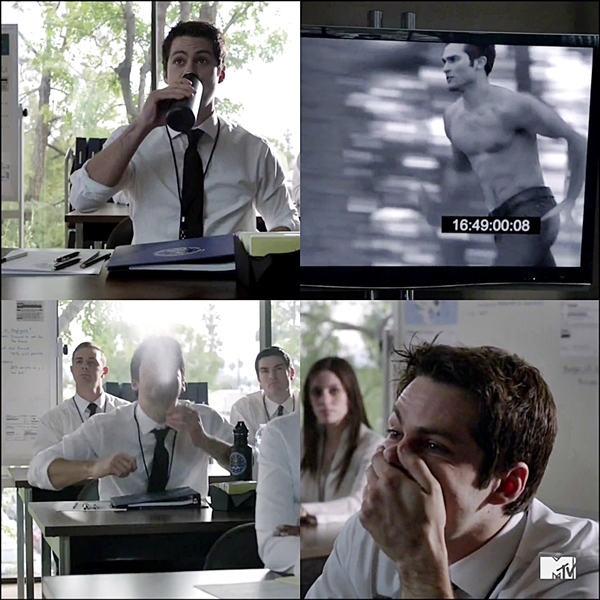 STEREK! STEREK! STEREK! Hale yeah! My head turns. My heart burns. My soul yearns. *HOWLS*
Trivial events in Beacon Hills:

The Coach is back. Scott is his assistant. Dead wolves in the woods. A hellhound-werewolf guy runs loose. A new teacher. Probably evil. New boring faces. Lydia's mother is the new principal. Malia and Lydia are friends now. Malia wants to fly to Paris. Hayden moved away to protect her sister. Liam mourns her loss and behaves irrational. Parrish fights the other hellhound. Lydia saves him screaming. Melissa is as cool and loveable as always. In the end Scott, Lydia and Malia don't leave Beacon Hills.
Stiles-related events:

Scott packs his stuff into Stiles's Jeep, and finds a note from him that reads: Be gentle.

Scott, Lydia and Malia listen to a recorded voicemail from Stiles: Hey, Scott. So, I'm here. I'm in Quantico, Virginia at the FBI. I'm at the freaking FBI. It's real, I'm really here. Yeah, I kind of told Lydia that I miss her and can't wait to get home, but, listen, Scott, whatever you are doing right now just make sure you'll still getting out of Beacon Hills. I mean, maybe you think you can't leave, you know, like the whole thing falls apart if you're not there, which I get, but you have to. I know you're supposed to drive out tonight, so if you don't call me back, just promise me you actually going, just get into the Jeep and go.
Important event in Quantico, Virginia:

Stiles walks up the stairs at the FBI. He looks happy and proud to be a FBI trainee. He sits in class and listens to the first lesson. He puts his things on his desk. He is his annoying self; interrupting the teacher constantly by showing off his knowledge.
The teacher stops every time and then continues talking and pointing at a TV screen where several different crime scenes are shown.
Stiles opens a bottle of water and notices the teacher's annoyance. "I'll raise my hand from now on. Sorry. Keep going." Stiles drinks from the bottle.
"One recent manhunt had our crisis response team chasing down a bizarrely feral unsub (Unknown suspect) in the wilderness of North California."
Stiles puts the cap back on his bottle, his mouth full with water, looking at the screen.
The footage of a half-naked Derek Hale running through the woods is shown.
Stiles spits his water all over the back of the woman sitting in front of him. Shocked and embarrassed he puts a hand over his mouth. SCREAMS!!!
"Is there a problem...uh...," the teacher says, and looks at the name list, and because he is unable to pronounce Stiles' full name, he continues ",...young man?"
Stiles wipes his mouth: "No. Sorry. Uh...just got a little excited. No problem." Stiles frowns. "Little question, though? That guy up there, what's...uh...he wanted for?"
"Murder," the teacher says.
Stiles raises his hand. "It's...uh...sorry, just what kind of murder exactly?"
"Mass murder."
Stiles looks deeply concerned.
STEREK IS BACK! STEREK IS LIFE! STEREK IS EVERYTHING! Duh!
Stiles wears black pants, a white shirt and a black tie. Derek wears only his pants.